Standards of Ritter-Pen GmbH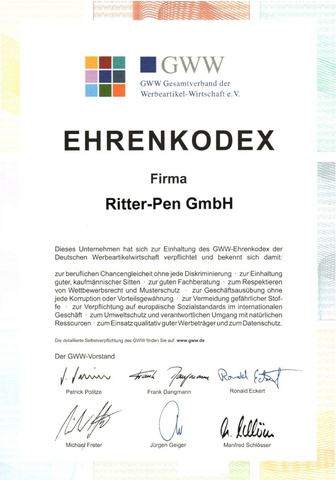 Ritter-Pen GmbH shall ensure compliance with all ethical and social policies drawn from the principles of internationally recognized standards; such as Children and Youth Protection, Respect for Human Rights and Reconciliation of Family and Professional Life. We integrate the ten principles of the UN Global Compact in all our decision-making processes. Our products do not contain toxic and harmful substances outside the industry standards, and transparency for all contents and precursors ensure appropriate monitoring.
History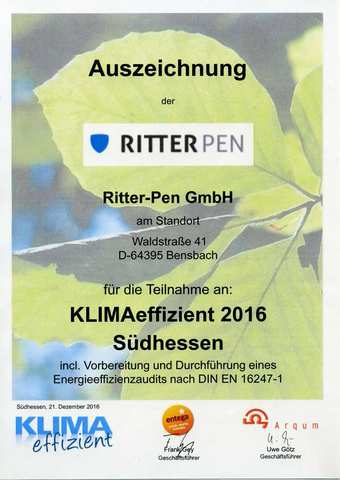 September 15, 1928 Jacob Ritter founded our company specializing in the production of boxes; manufacturing and selling wooden boxes to the Opel automotive factory and the mineral water industry. The Great Depression of 1929 forced the company in 1932 to restructure and Jacob started processing thermoplastic boxes and cases for razors, powder and jewelry. After the war woodworking was re-established producing cabinets, chests and housings for televisions. During this time special attention was also devoted to the processing of modern day plastics, manufacturing products such as buttons and cigarette holders. In 1948 pens and ink refills were manufactured and shown at the first major trade fairs, Frankfurt Spring Fair and the Hannover Fair in 1949. Up to 1950 only pen housings had been produced but by 1956 the first ballpoint pen with plastic mechanics came on the market. The 60's were dominated by the company's expansion, buildings were constructed for mould injecting and tool making. 1972 marks the "Birth Year" of the legendary 280 pen, leading the way and setting new standards in the writing instrument industry.
Tradition & Innovation
Arno Ritter, the current owner of Ritter-Pen, continues the traditions of a very successful family business. While our concepts continue to be innovative in every aspect of design, product development and imprinting techniques, the company grows and reaches global attention. The loyalty and commitment of the company's employees, together with creativity and dedication makes the business a great success. Our headquarters stands idyllic among the flow of the Brensback River and 16,500 square meters of factory buildings; built over two-thirds of the surrounding area leaving plenty of room for future expansion. Ritter-Pen employees 125 residents from the region and is one of the largest employers in the Odenwald area. As a local and global manufacturer, Ritter-Pen carries a great social responsibility. We integrate the ten principles of the "UN Global Compact" in all our decision-making processes. We practice compliance with all social policies of internationally recognized standards such as children and youth protection, respect for human rights and reconciliation of family and professional life. Products by Ritter-Pen are safe, they do not contain toxic or harmful substances outside the industry standards and we can provide transparency for all contents of precursors as well as samples of finished products to ensure appropriate accredited laboratory monitoring.
Design Language
It is our special strength to make writing instruments not only functional, but also original and distinctive. Our pens "Made in Germany" have a unique design language, a specific "Ritter" look. Our products are characterized by their unusual shape, texture and color. A look at the Ritter-Pen range shows a wide variety of diversity and innovation: Trendy colors, soft grips, moving beads on the clip, aerodynamically styled surfaces; soft stress-ball pushers ... the possibilities are endless. With an almost unlimited range of "Mix & Match" colors, customizing your pen to compliment your advertising message or corporate identity is possible. So whether the look you seek is style, color or form, the "ELEGANCE", "STRONG", "CLUB", "CLEAR" or "BONITA" are just a few models in our vast variety of original writing instruments.
Flexibility and Reliability
From start to finish the Ritter team designs, creates and produces high quality writing instruments. Intensive team meetings with our in-house and external designers create flexibility while our in-house CAD department working closely with the tool making department produces independent and quick development. Modern machinery ensures the highest in precision writing instruments. Our parts factory is equipped with 40 microprocessor controlled mould injection machines with a holding force of 25 to 220 tons. Two ultra-modern, two component mould injection machines complete this work group. We work with screen and pad printing machines and have a range of 1, 2, and 5 color printing presses, specialty equipment such as a digital transfer machine and several modern facilities for UV drying. When printing is completed we are fully staffed with local in-house assemblers that finish the order according to all the customers' requirements. We are committed to our traditions and continue to produce new, eye-catching and distinctive "Made in Germany" writing instruments. Our most important assets are flexibility, readiness for service, creativity and originality. With honesty, integrity and positive thinking Ritter-Pen remains the pen ambassador to the promotional world.