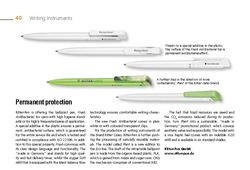 Ritter-Pen is offering the ballpoint pen, Fresh Antibacterial, for users with high hygiene standards or for highly frequented areas of application. A special additive in the plastic ensures a permanent, antibacterial surface, which is guaranteed for the entire service life and which is tested and certified in compliance with ISO 22196. In addition to this special property, Fresh convinces with its clear design language and functionality. The "made in Germany" seal stands for high quality and fast delivery times, whilst the Jogger Soft refill that is equipped with the latest balance flow technology ensures comfortable writing characteristics.
The new Fresh Antibacterial comes in plain white or with coloured transparent clips.
For the production of writing instruments of the brand Ritter Cares, Ritter-Pen is further pushing the processing of naturally reusable materials. The model called Plant is a new edition to the Eco line. The shaft of the retractable ballpoint pen is made from the organic-based plastic, PLA, which is gained from maize and sugar cane. Only the mechanism comprises of conventional ABS.
The fact that fossil resources are saved and the CO2 emissions reduced during its production, turn Plant into a sustainable, "made in Germany" promotional product, which conveys aesthetic value and responsibility. The model with a nice haptic feel comes with an indelible X-20 refill and is available in six standard shades.